My Story

HOW DID I BEGIN MAKING KNIVES?
In 1978 I made my first knife while working as a tradesman saw filer in a Bend, Oregon sawmill. I had noticed some other saw filers working on knives during their breaks using the narrow tang design. I began making knives after finding a supply of F8 Silvanite, a high carbon, high tungsten tool steel making hundreds of knives with it and also worked in some D2 planer blade steel. 
MY FIRST KNIFE WAS 100% HANDMADE, AS THEY STILL ARE TODAY 
In 1985 I participated in my first knife show at the Oregon Knife Collectors Association (OKCA) in Eugene, Oregon. There I quickly learned that I had some progress to make when I saw the high quality work that others were doing. Also in 1985 I took some of my knives with Hawaiian Koa handles with me on a vacation to Hawaii. That proved to be a great market for many years with my knives selling on Kauai, Maui and the Big Island.  

I moved from central Oregon to California in 1988 to a higher paying sawmill job and a warmer climate, then began to participate in California knife shows. 

In 1990 I initiated my membership into the Knifemakers Guild. After five years, even though the Guild is a very prestigious and wonderful organization, I made the tough decision to end my membership since it just wasn't being cost effective for me. 

I am a current member of the California Knifemakers Association.

In 2009 I began making knives full-time.


HOW LONG DOES IT TAKE TO MAKE A KNIFE? 
This is THE most asked question! Equipment, skill, experience, knife styles, embellishments- all add up differently for different knifemakers. The most simple, small fixed-blade knife may take only 3-4 hours, but other types, especially large knives, can require up to 20 hours or more. One knife took me 40 hours to carve a fully feathered eagle-head from fossilized walrus tusk ivory for the handle, plus another 20 hours to make the 14" blade and assemble it all with a guard. That was a 60 hour knife, plus oak stand and a tooled leather sheath! 
Folding knives require 10 to 15 hours apiece depending on how many blades, type of steel (damscus takes longer) engraving and inlay work.


WHERE I'VE BEEN
Someone reading this may wonder if they know who I am. Here is a list of places, events and things I've done that perhaps you too were there. 

Born in McMinnville, OR 

Played football and was on the wrestling team for 4 years at Willamette High School in Eugene, Oregon. 

Graduated from Willamette High School in 1961. 

As a freshman, was on the Oregon State University wrestling team of 1962-63. 

Was in the Army from 1964 to 1967. Took care of avionics at Davidson U.S. Army Airfield, Ft Belvoir, VA. The last 5 months my duty station was at the Pentagon Heliport, taking care of the electronics. 

Got a 2 year degree in Electronic Engineering at LCCC, Eugene. 

Enjoyed rock climbing, bouldering and mountain climbing in the Eugene area and the Cascade Mts. 

Moved to Bend, OR in 1971

Ski patrolled on the Santiam Pass Ski Patrol at Hoodoo Ski Bowl for 8 years. Wore orange helmet with "THE CAT" on it.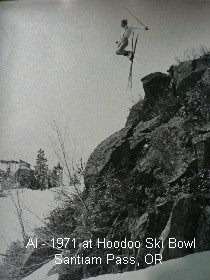 Pictured is Al jumping off "Show Off Rocks" cliff in 1971.
In 1972 invented and developed a single ski called the Snow Snake. Taught First Aid for the Red Cross in Eugene and Bend, OR. Moved to Porterville, CA in 1988 Moved to Roseville, CA in 1993


PLACES OF EMPLOYMENT
Nielsen Saw & Manufacturing Co. (Bell Corp.) in Eugene, OR 

Carbcut Saw Shop in Eugene, OR 

Ted Meagher Saw Service in Bend, OR 

Brooks Scanlon Sawmill in Bend, OR (became Diamond International, then DAW Forest Products) 

Sequoia Forest Products sawmill, Terra Bella, CA 

Rapistan Demag (installing conveyor systems) 

Sierra Pacific Industries sawmill, Lincoln, CA (Sacramento area) 

I retired in Aug 2009 from working on saws in sawmills and now am a full-time knifemaker. 

My wife Lynda and I have been married since 1982. 


Currently attending Westside Christian Church, Roseville, CA.




From a previous marriage I have a son, Jody Warren, who was a Sushi Chef for 14 years. He has worked in Ashland, Oregon at the Kat Wok, the Kanpai in Bend, Oregon, the Takah Sushi Restaurant, in Aspen, Colorado, the Syringa Japanese Cafe & Sushi Bar in Coeur d' Alene, Idaho and in McCall, Idaho. He currently resides in Bend, Oregon, working as the stage manager at outdoor concerts in the summer. 

Jody used the Japanese style knives I make to his requests. 

- Al